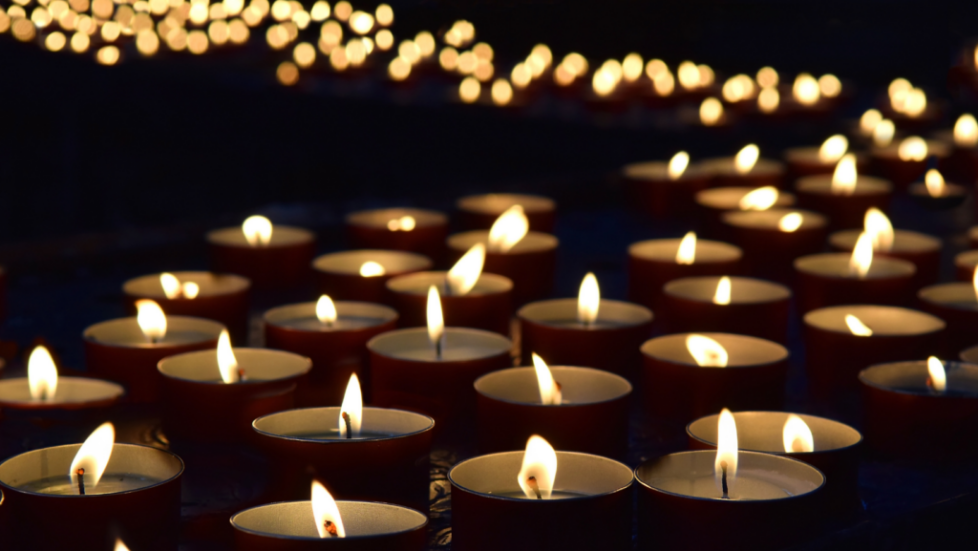 The information on this site is meant to help you manage both the secular and Jewish elements of death and mourning.
It is not intended to replace direct communication with the clergy or temple staff.
For immediate emotional support, please call the temple's emergency number at 914-922-5094.
When Death is Imminent
Viddui may be recited as a deathbed confession by the dying person or by someone on their behalf.
In addition, you may wish to read this article that summarizes The Book of Job and analyzes the fundamental religious paradox of why a loving God would construct a world so full of suffering.
At Time of Death (or when you learn of a death)
Many find comfort in reciting this ancient prayer at the time of death:
Baruch Atah Adonai, Eloheinu Melech HaOlam, Dayan Ha'emet
ברוך אתה אדני אלהינו מלך העולם דיין האמת
Blessed are You, Source of the Universe, in whose world everything has meaning.
Designating a Close Friend or
Relative as the Family's Representative
You may want to consider appointing a trusted friend/relative to assist you in handling the dozens of logistics that can arise.
Please read through Options to Consider and Immediate Decisions to Make to learn the many supports included with your Kol Ami membership.
Phone Calls to Make as Soon as Possible
Help is readily available for you and your family.
Kol Ami
Call the emergency number at 914-922-5094. (Be sure to share the name and contact information of your family's trusted contact, if you have one.)
Funeral Home
If you haven't chosen a funeral home or cemetary, the temple can help guide you.
For immediate emotional support
please contact the temple's
emergency number at 914-922-5094
Jewish Funeral and Burial Practices
Judaism prescribes certain rites and rituals for a funeral and burial. You will decide for yourself what feels right for your family. There is no obligation to follow any of these practices.
Jewish Funeral Practices
Jewish funerals are generally conducted within a few days of death. The funeral may be held at Kol Ami, a funeral home, or at graveside and on any day except Shabbat or holidays.
Kol Ami provides clergy for the funeral of a congregant. There is no charge for this service; a donation to Kol Ami or to the Rabbis' discretionary fund is appreciated. Kol Ami will coordinate with any funeral home or cemetary.
There is considerable flexibility as to the content of the funeral service. The clergy will work with you to make the service appropriate and personal.
Just prior to the service, close relatives gather for the tearing of a garment (keryah) or of symbolic black ribbons which are worn by the mourners. The keryah represents an outward sign of grief and acceptance. Mourners wear the torn garment while sitting shiva.
Jewish Burial Practices
While there are numerous variations, most Jews opt for an in-ground burial, a simple wooden casket, and a Jewish or non-sectarian cemetery.  Cremation, as an alternative, has become more acceptable and popular within the Reform Jewish community. In addition, more and more cemeteries are offering environmentally-friendly, green burial options.
As a last physical act of kindness, immediate family and close friends may participate in the shoveling of dirt atop the casket.
Mourners recite the Mourner's Kaddish prayer in honor of their departed loved one.
Shiva and Home Preparation
Preparing the home for Shiva
A volunteer from the Chesed Committee is available to assist you in preparing your home for shiva. Please inform Jess Lorden if you would like assistance from the Chesed Committee.
Shiva
Shiva provides a framework for mourning. This ancient tradition calls for mourners (parents, spouse, siblings, and children) to receive comfort from friends and family in the days following burial. It is a mitzvah to "pay a shiva call."
The most common question asked is "How do I feed all those guests?" The answer is that you do not. The function of visiting mourners is to provide comfort, not to be guests. Your designated family representative can help coordinate with local caterers as needed.
Saying Kaddish, the Unveiling, Observing Yahrzeits
Saying Kaddish
As a congregation, Kol Ami recites the Mourner's Kaddish on Friday nights and Saturday mornings. The name of the deceased is announced on the four Fridays and Saturdays (shloshim) following the burial. Temple Israel in White Plains invites mourners for its morning and evening daily minyon. Please contact Temple Israel for details.
Unveiling the Headstone
Approximately a year after the burial, it is customary to gather for a graveside ceremony in which the headstone is "unveiled." There are no formal requirements for this service; however, traditional Hebrew readings and a final Kaddish are often recited. Upon request, the clergy will help families plan for a meaningful service for the unveiling.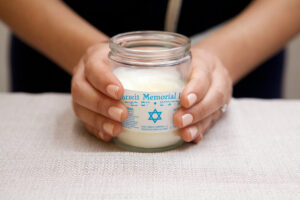 Observing Yahrzeits
It is customary to commemorate the anniversary of the death of a loved one by lighting a Yahrzeit candle. Kol Ami invites and encourages you to share the name and yahrzeit of those who have passed. Their name will be announced at temple services, and you will receive an annual reminder of the secular date or date on the Hebrew calendar, however you choose.
Yahrzeit candles are traditionally lit for loved ones four other times each year: Yom Kippur, Sukkot, Pesach and Shavuot. On these same four days, Kol Ami services include the Neila (memorial) service.