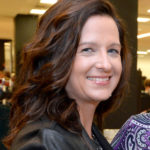 Emily grew up in White Plains and is a graduate of White Plains High School, as well as a long time congregant of Kol Ami since she was 3 years old!  Emily graduated Boston University with a Bachelors Degree in Early Childhood Education in 1995 and a Masters in Early Childhood Development and Special Education from the prestigious Bank Street College of Education in Manhattan in 2002.  Upon graduation from graduate school, Emily became a SEIT Teacher through the Alcott School for special needs toddlers in the Westchester area from 2002-2007. She worked tirelessly with children and families, via home visits and pre-school visits, to facilitate them reaching their developmental milestones as well as navigating the CPSE process with the school districts all throughout the area.
From 2007-2009 Emily then worked as the Publicity Coordinator at Westchester Country Club which involved planning and development of events for over 3,000 club members, their families, and their guests.  In addition to large events, she was also involved in marketing, web design, flyer design and distribution, restoring antique photos, and working on the team that published the club's quarterly magazine.
In 2007 Emily and her husband also became owners in a restaurant, The Rye Roadhouse, which they are still owners of today. At this time, Emily left her work at Westchester Country Club to do freelance graphic design for private clients, the restaurant, and Kol Ami.
In 2011 Emily and Kevin welcomed their daughter Morgan into their family.  Morgan attended all three years through the ECP Program at Kol Ami and is now a proud attendee of the White Plains Schools, and of the Kol Ami Religious School.  Emily was Co-Chair of the ECP Fundraising Committee for many years and was instrumental in raising the money for two brand new state- of-the-art playgrounds.  Emily also was very honored to be chosen to design the new Kol Ami High Holiday prayer book dedication labels, as well as Cantor David Rosen's "Shabbat in the Woods" CD.
Emily is thrilled to bring her design, creativity, and management skills to the Assistant Executive Director position at the temple.  When she isn't at work, Emily loves to spend time with her family, walk her dog around the neighborhood, cook, and get together with friends.