Listen to the sound of the Shofar!
If the player above does not work on your device you can click the arrow on the Service Schedules below or click the Facebook/Youtube logos to watch on their sites.
Live Streaming 2021
High Holy Day Services
Service Dates & Times
Erev Rosh Hashanah
September 6th
7:30pm-9:00pm*
Rosh Hashanah Day One
September 7th
Early Service
9:00am-11:30am*
Late Service
1:00pm-3:30pm
Family Service
4:00pm-5:00pm
College Youth Discussion
via Zoom
4:00pm-5:00pm
Rosh Hashanah Day Two
September 8th
Community Service
10:00am-Noon*
*Denotes live stream service
Yom Kippur Kol Nidre
September 15th
Early Service
6:00pm-8:00pm*
Late Service
9:00pm-11:00pm
Yom Kippur
September 16th
Early Service
9:00am-11:30am*
Late Service
1:00pm-3:30pm
Family Service
4:00pm-5:00pm
Afternoon Workshops
1:00pm – 4:00pm
Yizkor and Neilah Service
5:00-7:00pm*
*Denotes live stream service
Preparing For The Holy Days
In-person or At Home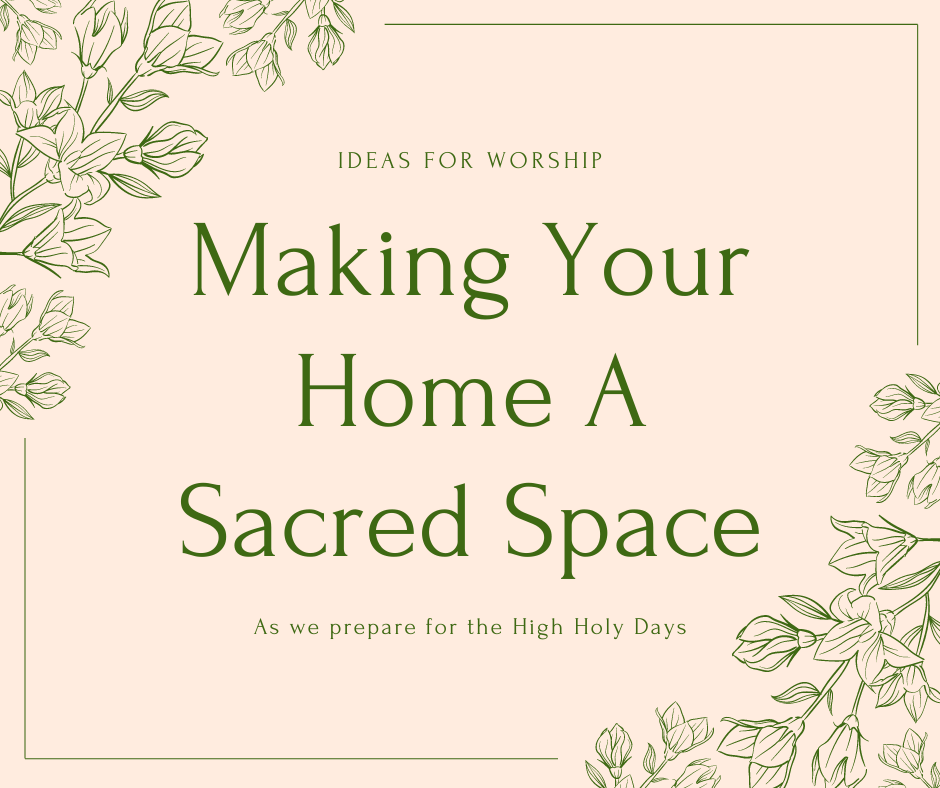 Holiday Resources –  Rosh Hashanah
For all of you who choose to celebrate the eve of Rosh Hashanah at home with family and friends, we are happy to send you resources to enrich your celebration.
Blessings and prayers to say around the table (for candles, wine, for apples and honey, for the ones we love – friends and family.
A story to read around the table – "The Princess Who Wanted to See God."
An audio recording of the (See column to left)

blessings for candles  
wine & shehecheyanu  
for the ones we love  

A wonderful video about key concepts for Rosh Hashanah.

Look for these phrases:
Every wrong can be made right
Dip your apple in the honey
Shana tova umetukah (a good and sweet year)
The Sephardic custom of having a fish head on the table (we should be the head ("Rosh"), not the tail) .
Avinu malkeinu – O Lord deliver us

Watch "No Mirrors in My Nana's House read by Tia & Tamera Mowry" on YouTube. This beautiful story and song are an inspiring complement to the story, "The Princess who Never Cried."
We hope these resources will add depth and meaning – and support you in your celebration of Rosh Hashanah at home. You may want to preview the materials to decide what is appropriate for your gathering.
Memorial Service
& Mourner's Kaddish
Our Memorial service will be held on September 16th at 5pm. A copy of the Mourner's Kadish and other readings can be found on our Yom Kippur Memorial Service page.
Virtual Cemetery
It is a long standing Jewish tradition to visit the grave sites of loved ones in the period surrounding the High Holidays. While a personal visit to the cemetery is the preferred way to fulfill this mitzvah, current circumstances may prevent such a trip. Thanks to the internet and a website called FindaGrave, those buried in Congregation Kol Ami plots, family members interred at other cemeteries anywhere in the world and those whose only memorial is in our minds and hearts, may be visited virtually.
One feature of FindaGrave is the ability to create a virtual cemetery. A virtual cemetery gathers memorials of people who are interred in various physical cemeteries into one, online location. The Congregation Kol Ami Virtual Cemetery lists all interments in Kol Ami plots at Mount Hope and Mount Pleasant cemeteries. In addition, memorials for people who are buried around the globe, or whose ashes may have been scattered in the winds and waters of the planet, may be included in our virtual Kol Ami cemetery.
By clicking the name of an individual, you will be taken to his or her memorial page. There, you will find a photograph of the gravestone or other memorial (e.g. a plaque on a bench), as well as information taken from the stone, such as dates of birth and death. A few of the listings include biographical information entered by the creator of the memorial page.
For questions about the virtual cemetery or to have a name added, please contact our congregant and genealogist, Alan S.