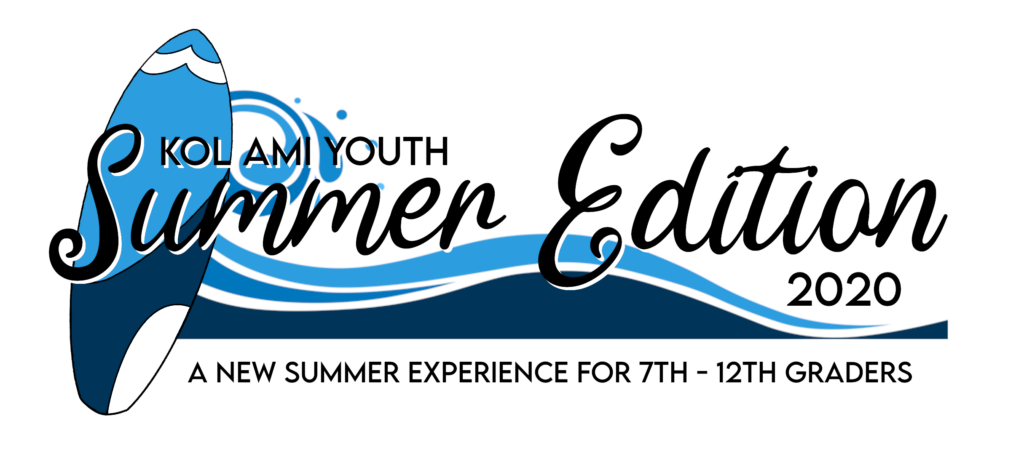 Thanks for your interest in our new summer program. If you have not already, please read the following letter from Rabbi Tom Weiner, Jess Lorden, and Barak Stockler.
Dear Parents,
We know these months have been challenging, especially for our youth. Kol Ami strives to keep our congregants connected and engaged in this difficult time. We are very excited to share with you that Kol Ami is here with an exciting Summer program for our rising 7th – 12th graders, including recent graduates!
Summer Edition: 2020 will cost only $36 per child per week, and otherwise will be underwritten by generous Kol Ami members.
While our top priority will always be the safety and well-being of our students, our goal is to have as much programming in person and outside in the fresh air as possible. Which programs will be provided in-person, as opposed to what programs will be provided virtually, will be determined by the Kol Ami Reopening Committee in accordance with CDC guidelines, the Westchester County Department of Health, and the phased reopening guidance promulgated by Governor Cuomo. Decisions regarding meeting in person will be made as we approach our start date.
Summer Edition: 2020 will run for 6 weeks, from July 6th through August 14th. Our faculty will include Jordan Frankenthaler, Amalia Pass, Sam Weiner, Ori Zaff, Rabbi Nadia Gold, Danny Mishkin, Josh Diaz, Rabbi Tom Weiner, and Barak Stockler.
We hope you will join us this summer for our new and amazing program. We have been working hard to create a program that we think will be engaging, fun, and safe for everyone. Please stay tuned for more info and registration!
For any questions, please contact Director of Youth Engagement Barak Stockler at barakstockler@nykolami.org