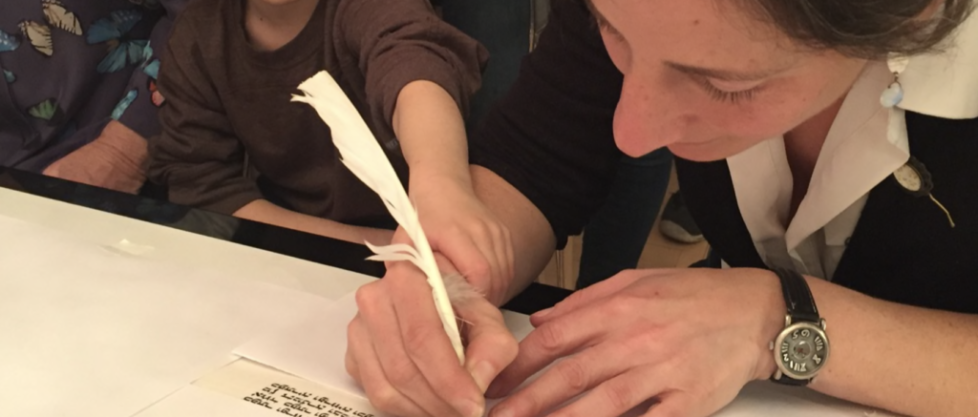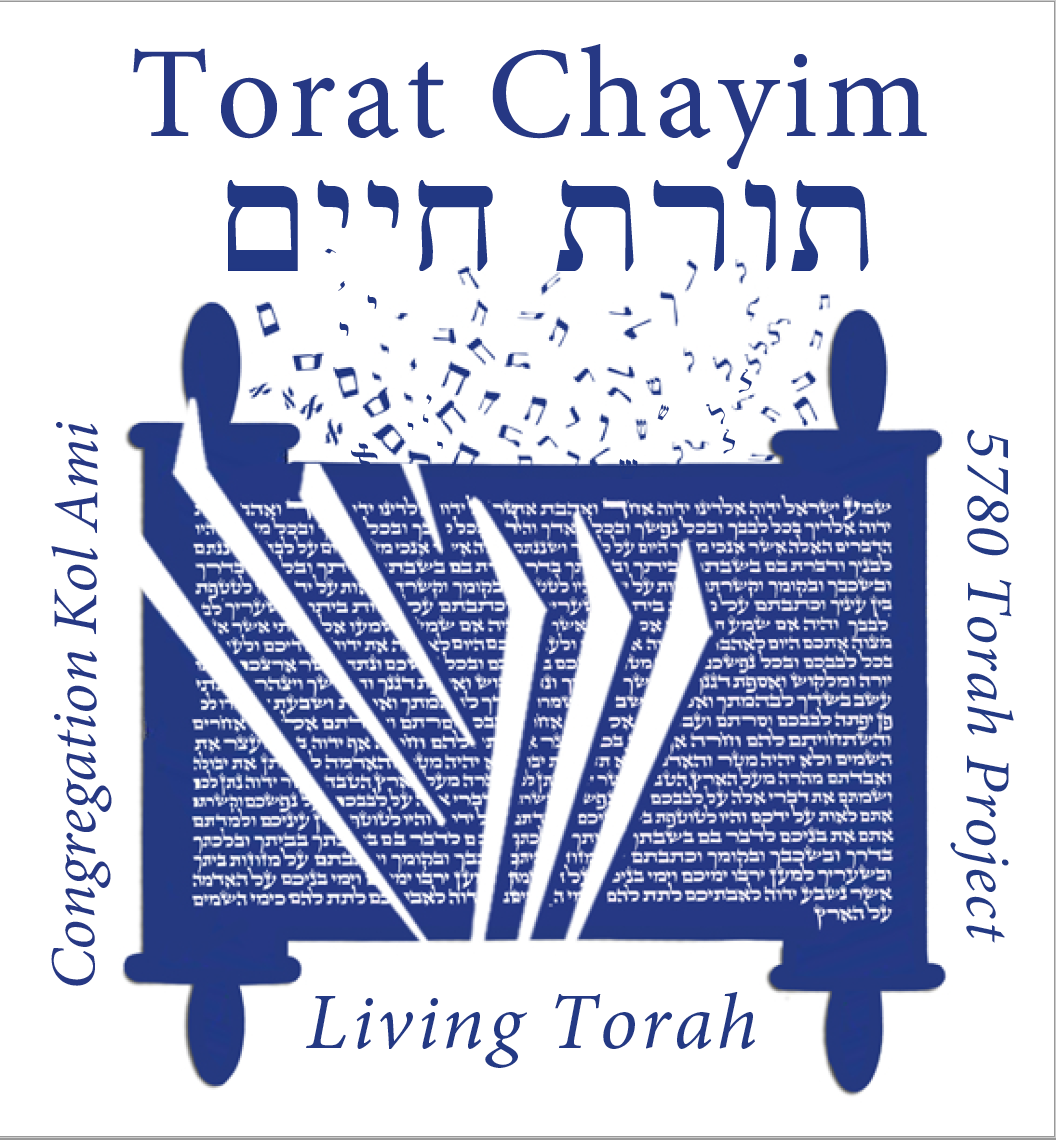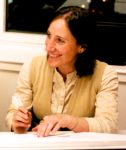 Julie Seltzer is one of a small group of women Torah scribes, and became enamored with the Hebrew language when she took her first trip to Israel at the age of 18. She began to further explore the meaning of Hebrew letters and the scribal arts while working at the Isabella Freedman Jewish Retreat Center in northwest Connecticut.
Julie studied scribal arts with Jen Taylor Friedman, the first woman we know of to write a sefer Torah. During a subsequent trip to Israel, Julie studied with Shoshana Guggenheim, the lead scribe of the Women's Torah Project (a women's collective Torah scroll), and Shoshana's teacher Dov Laimon, an Orthodox man who teaches women despite his own adherence to Orthodox Judaism's prohibition to use a scroll written by a woman.
Upon returning to the United States, Julie apprenticed with Reform scribe Neil Yerman in Westchester. Her first scroll was a Shir Hashirim – a Song of Songs scroll. Julie's first complete Torah was written while on display at the Contemporary Jewish Museum in San Francisco, where she worked as a Scribe-in-Residence. 
Julie enjoys the discipline and meditative practice that being a Soferet STa"M, a scribe, provides. She says that, "Writing itself is what interested me most: how a finite number of letters can combine into an infinite number of unique sentences, and function as a means for communication between people across time and space."
Frequently Asked Questions
Ready To Pledge
Visit Our Online Pledge Form
Pledge Opportunities
Here is where you can pick specific books, selections and passages to dedicate.
Special Passages
$18,000 per selection
Limited to one selection per family
Seven Days of Creation (Gen 1-3)
Akedat Yizhak (Binding of Isaac) (Gen 22: 1-19)
Song of Sea (Miriam's Song (Ex 15: 1-21)
Ten Commandments (Ex 20: 1-14)
Holiness Code ("Love Your Neighbor as Yourself" …) (Lev 19)
Ten Commandments (Deut 4: 44-5:30)
Sh'ma and V'ahavta (Deut 6: 1-25)
Special Biblical Stories
$5,000 per selection
Will be open to multiple selections
Adam and Eve (Gen 2: 4-25
"Am I my Brother's Keeper" (Gen 4: 9)
Noah's Ark (Rainbow) (Gen 9: 12-17)
Call to Abraham (Gen 12: 1-3)
God's Covenant With Abraham (Gen 17: 1-7)
Abraham's Hospitality – Welcoming the Stranger (Gen 18: 1-8)
Abraham Purchases Burial Plot of Sarah (Gen 23: 1-20)
Rebecca at the Well (Gen 24: 1-20)
Easu and Jacob (Gen 25: 19-34)
Jacob's Dream (Gen 28: 10-22)
Jacob Wrestles with an Angel (Becomes Israel) (Gen 32: 25-30)
Joseph's Coat of Many Colors (Gen 37:3)
Joseph Makes Himself Known to His Brothers (Gen 45: 1-4)
Blessing of Ephraim and Manasseh (Gen 48: 8-20)
Shirah and Puah-Midwives Who Spared Moses (Ex 1: 15-19)
Birth of Moses (Ex 2: 1-10)
Burning Bush (Ex 3: 1-6)
"We Will Go With Our Young and With Our Old…" (Ex 10: 8-9)
First Passover (Ex 12: 1-11)
Parting of the Red Sea (Ex 14)
Moses Selects Judges (Ex 18)
At the Foot of Mt. Sinai (Ex 19)
Ner Tamid – The Eternal Light (Ex 27: 20)
The Golden Calf (Ex 32: 1-4)
Attributes of God (Ex 36; 5-7)
Moses' Face Sent Forth Beams of Light (Ex 34: 35)
Golden Rule (Lev 19:18)
Holiday Cycle (Lev 23)
"Proclaim Liberty Throughout the Land …"  (Liberty Bell) (Lev 25: 10)
Moses' Prayer for Miriam (Num 12:13)
Meaning of Fringes (Num 15: 37-40)
Mah Tovu (Num 24: 5)
Zelophehad's Daughters (Num 27: 1-11)
Reading on the New Moon (Num 28: 1-15)
"When Your Child Asks You…" (Deut 6: 20-25)
"Open Your Hand to Your Poor and Needy Brother" (Deut 15: 11)
"Justice, Justice Shall You Pursue" (Deut 16:20)
"Remember Amalek – Do Not Forget" (Deut 25: 17-19)
"Blessed Shall You Be…" (Deut 28: 6)
"Choose Life" (Deut 30: 15-20)
Moses Appoints Joshua as Leader (Deut 31: 1-8)
Moses Blesses the Israelites (Deut 33: 1-29)
Other Selections
Chapter                      
‭     ‬
$360
Verse                           
‭   ‬
$180
Hebrew Name             
‭   
$180
Word                          
‭      ‬
$54
Letter (children only)  
‭
$18
Special Selections
$3,600 per selection
Will be open to multiple dedications
Creation – Day 1 (Gen 1: 1-5)
Creation – Day 2 (Gen 1: 6-8)
Creation – Day 3 (Gen 1: 9-13)
Creation – Day 4 (Gen 1: 14-19)
Creation – Day 5 (Gen 1: 20-23)
Creation – Day 6 (Gen 1: 24-31)
Creation – Day 7 (Gen 2: 1-3)
First Word (Bereshit) (Gen 1:1)
Last Word (Israel) (Deut 34:12)
Priestly Blessing (Num 6: 22-26)
The Sh'ma (Deut 6:4)
"Write Down For Yourselves This Song" The 613th Commandment (Deut 31:19)  
Weekly Portions/parshiyot
$1,800 per selection
Will be open to multiple selections
Dedication Parashiot is a meaningful way to take part in Torat Chayim.
Do you remember the name of the Bar or Bat Mitzvah portion or that of a family member?  If not, just bring us the date you were first called to the Torah.  One of our Clergy or Torah Scholars will determine and discuss with you the Parasha for that date.
The Book of Bereshit (Genesis)
B'reishit
Noach
Lech-Lecha
Vayera 
Chaya Sara 
Toldot
Vayetze
Vayishlach 
Vayeshev  
Miketz
Vayigash
Vayehi
The Book of Shemot (Exodus)
Shemot 
Va'era
Bo
B'shalach 
Yitro 
Mishpatim
Teruma
T'tzaveh
Ki Tisa
Vayak'heil
P'kudei
The Book of Vayikra (Leviticus)
Vayikra 
Tzav
Shemini 
Tazria 
Metzora 
Acharei Mot 
Kedoshim
Emor
B'har
B'chukotai
The Book of Ba-midbar (Numbers)
B'midbar 
Naso 
B'haalot'cha
Sh'lach-L'cha 
Korach
Chukat
Balak
Pinchas
Matot
Masei
The Book of Devarim (Deuteronomy)
Devarim 
Va'et'chanan
Eikev
R'eih
Shoftim
Ki Teitze
Ki Tavo
Nitzavim
Vayeilech
Haazinu
V'zot Habracha