What is a Bar or Bat Mitzvah? Where does this tradition come from? The answer is relatively straightforward, and it is important not to lose sight of the central meaning of this moment in a young person's life. All cultures have found unique and meaningful ways to recognize that a person in their early teens is beginning a serious transition into adulthood. Most cultures have a way of recognizing the changes that occur physically, emotionally, intellectually and spiritually. Our ceremony for recognizing this entrance into adulthood is called the Bar/Bat Mitzvah. 
The Bar/Bat Mitzvah experience at Kol Ami begins with engaging family workshops in the 6th grade and ends with a beautiful Bar/Bat Mitzvah Shabbat service close to the young person's 13th birthday. Weekly services in Religious School prepare our children to confidently lead the Shabbat Service. Along the way the students work extensively in one-on-one sessions with our Rabbis, our Cantor and with their own individual tutor. Each student also takes on their own mitzvah project.
Adult Bar/Bat Mitzvah Program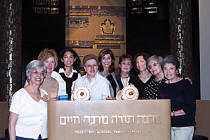 Learning for its own sake, as well as the opportunity to become an adult Bar/Bat Mitzvah, is encouraged. This two-year program includes a study of Jewish beliefs and practice, a conceptual introduction to holidays, life cycle rituals, great friendships, and the art of asking good questions. For more information on dates and times please contact the main office or one of our Rabbis.
Learn more about having your celebration at Kol Ami.
Our newly renovated spaces can accomodate everything from a basic Kiddush or sit down luncheon to a formal reception