Caring For Our Community
Kol Ami is a caring community. We celebrate and acknowledge the happy occasions in the lives of our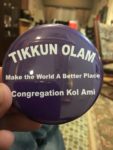 members and offer support during times of sadness, illness and stress. Please contact the Temple office, Rabbi Tom, Rabbi Shira or Cantor Danny if you or someone you know is in need of the support of our congregation. We also love to hear good news; let us know of a happy event occurring in your family so we can include it in This Week At Kol Ami!
Mi Shaberah List/ Prayer for Healing
If you would like your name, the name of a family member or the name of a friend read during the prayer of healing during the Shabbat Evening service, please notify the Temple office.
Hospital Visitation
Our Clergy would like to visit you in the hospital or call on you if you are ill but we need to hear that news from you or a family member. Due to privacy laws now enacted by health care providers, clergy are not notified of the hospitalization of a congregant unless you specifically request that your clergy be notified. Please tell the Rabbis or Temple office of a hospitalization so we can provide support to you during difficult times.
Yahrtzeit List/ Memorial Prayer
Names of loved ones are read prior to the Kaddish prayer on Friday evening to remember their passing. Contact the Temple office or Rabbis with the name(s) of those you would like remembered. Names will be read every year on the Hebrew Calendar anniversary and during Yiskor services on Yom Kippur. Non -Jewish relatives' names may also be read.
Important Mitzvot
Participation in acts of kindness and social justice is a way of life at Kol Ami. At every Shabbat and holiday dinner, volunteers make sandwiches and bags of trail mix for adults and children at a local shelter. Every Bar and Bat Mitzvah student engages in an ongoing Mitzvah project of their choosing and our 10th grade students travel to the Religious Action Center for a 3-day program in political advocacy.
We have an amazing group of volunteers who are willing to reach out to a Temple member in need. More volunteers are always needed. We would love to have you join us in these important Mitzvot.
Kol Ami Singers
Join us as we sing songs accompanied by Paul Schwarz. Bring a little sunshine to nursing home residents and make a difference in their lives. No rehearsals needed. Contact Murray Shapiro.
Cooking For The Homeless 
Kol Ami volunteers prepare dinner in the temple's kitchen for the residents of the Open Arms men's shelter in White Plains. This activity is also appropriate for older children and teens. We meet at Kol Ami once a month on Sundays from 11-12:30 and Mondays from 12-1:30. No cooking experience required. Contact Nancy Marcus or Laura Green.
Connecting With The Homebound
Kol Ami volunteers reach out to congregants living on their own. Contact Betsy McCormack if you are interested in receiving phone calls or visits or would like to volunteer.
Bikur Cholem – Helping The Sick
Congregation Kol Ami, along with the Volunteer Office at White Plains Hospital Center, trains congregants for the WPHC Lay Chaplain Program. A commitment to visit Jewish patients in the hospital at least once a week for a two hour period is expected. The program is organized by the Pastoral Care Office, managed by Bro. Rick Lorino. Contact Ginny Ruder if you would like to volunteer.
Making Meals For Those In The Hospital Or Recovering
Kol Ami volunteers offer to provide dinner to families when a family member is hospitalized or to single congregants recently out of re-hab and not able to stand on their feet to prepare a meal. Contact Ginny Ruder when you need meals or if you would like to volunteer.
Sharing Rides To Kol Ami Events
Kol Ami volunteers offer to share rides to temple services and events. Contact Betsy McCormack when you need rides or if you would like to volunteer.
Assistance With Shiva
Kol Ami volunteers offer to sit in your home while you attend funeral services. We will accept food deliveries, help prepare your home for shiva and welcome your guests. Contact Betsy McCormack when you need shiva assistance or if you would like to volunteer.
Semi Annual Blood Drive
Give the gift of life. Contact the Temple office for details.