To nurture the divine spark within, and to connect each of us to a meaningful Jewish journey.
The teenage Confirmand
The interfaith family
The Early Childhood preschooler
The wedding couple
The High Holy Days worshipper
The steadfast participant.
Here, you're embraced.
Whatever your "Jewish" is, you'll find it at Kol Ami.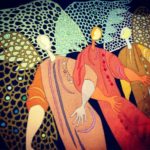 Here, our members – of every age and with diverse backgrounds and identities – are our heartbeat.
Here, we cultivate relationships with family, friends, staff, and clergy.
Here, we are rooted in our synagogue, in our community, in our country, and in Israel.
Here, we celebrate Jewish traditions and culture, nourish our souls through music and the arts, and explore relationships with God.
Here, we evolve and challenge ourselves.
Here, we worship, we learn, we celebrate, we engage.
Here, we practice Tikkun Olam.
"Kol Ami" means "the voice of my people"
Here, hear your voice.