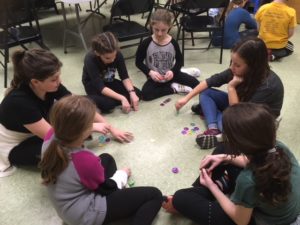 In the world of our children, Judaism can offer what is available to them in almost no other place in their lives – a sense of rootedness in an eternal tradition, a way to celebrate life's monumental and simple moments and the knowledge that they are needed, precious and irreplaceable in bringing the world to greater goodness.
The curriculum of the Kol Ami Religious School integrates the child's world with Jewish learning – its wisdom and values, its music, dance and art, its lessons of history and courage, with a basic knowledge of Hebrew reading, and comfort and joy in prayer. Jewish history, from the Bible to the present, becomes a vehicle not only to learn the stories of our people, but also to learn that being Jewish gives us the obligation and courage to speak out for the silenced and oppressed. Our curriculum teaches Jewish blessings (brachot) and prayer (t'filah) as ways to appreciate the wonder of this world and to give thanks for God's gift of life. Kol Ami welcomes children with learning differences in both self-contained and inclusion programs within our school. Please contact us so we can design a Jewish learning opportunity that will best benefit your child.
Kol Ami also offers our Yad B'Yad (Hand-in-Hand) program which serves Jewish teens, ages 13 to 18 who have developmental, cognitive or emotional challenges.  The program is open to Jewish families from all denominations and traditions throughout Westchester County. To find out if this wonderful program might benefit your child please contact us at (914) 949-4717, ext 124. We are always available to speak with you about curriculum, philosophy and all our wonderful programs. 
In order to register for our Religious School you must become a member of Congregation Kol Ami. To learn about what Membership has to offer, contact our executive director,  Jess Lorden at 914-949-4717.