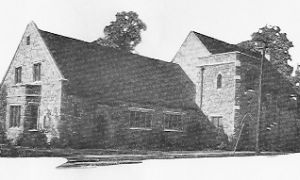 Congregation Kol Ami, originally named the Jewish Community Center, was founded in 1923 with approximately 50 families holding religious services and Sunday school in a variety of locations. The families chose the name Jewish Community Center because they felt it bound them to the community they served. In just 3 years they managed to build a Synagogue and religious school on Sterling Avenue in White Plains where they continued to thrive for the next 20 years until we moved to our current location on Soundview Avenue in 1946.
Over the years as our congregation has grown, so have we. In 2007 we renovated our social hall, auditorium and lobby and in 2012 we renovated our sanctuary. Our beautiful new sanctuary creates a uniquely spiritual environment for worship and provides easy access to all members.
In 1994 we faced having to change our name becasue of the confusion caused by the YWHA and YMHA organization changing their name to the Jewish Community Center. We chose Congregation Kol Ami (The Voice of My People) because it reflects every aspect of our Temple life, from worship to social action. In addition, we felt it connotated warmth, welcome, friendship, fellowship and family.
History buffs can learn more about the founding of our synagogue by reading the comprehensive history of our first 60 years that was compiled by Bernice Brussel and Edward Lee. Their research provides fascinating insight into the evolution of our synagogue in the context of how the world was changing during those times. A very limited number of copies are available in the Main office.