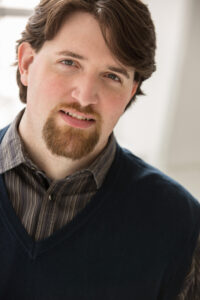 Having grown up down the block, literally, Cantor Danny has long been an admirer of Kol Ami's vibrancy and neshamah (soul).  A graduate of the Cantors Assembly's Cantorial Intern Program, he has served as Cantor of Congregation B'nai Sholom-Beth David in Rockville Centre, New York since 2012. While in Rockville Centre, Daniel brought innovative worship services and engaging musical programming to his congregation.
As the son of two distinguished Westchester cantors, Daniel was introduced to Jewish music and opera from a young age.  His repertoire runs the gamut, from cantorial, to opera, to Broadway, to good old fashioned rock n' roll.  Daniel has performed all over the United States and in Europe, including here at Kol Ami.  For the past two summers, he has been honored to sing the national anthem at Citi Field, home of his beloved New York Mets.  He also recently made his anthem debut at Madison Square Garden.  Daniel's discography includes "Birthday of the World Part I" with Leonard Nimoy narrating, "Hazzonos" with Frank London, hailed as "… jazz album of the year" by Wired Magazine, "Further Definitions of the Days of Awe" with The Afro- Semitic Experience and "Yontef!  A Celebration of the Yamim Noraim, The High Holidays".  Over the last 2 years, Daniel has been exploring and composing Jewish liturgical music.  Recently, his own musical setting was selected in a nationwide contest to compose a melody for the official Jewish prayer for the United States Armed Forces. This Song of Service has been offered at congregations around the country.
Daniel is a graduate of the School of Visual Arts in New York, where he received a BFA in Film/Video Directing.  Even as a filmmaker, the vocal arts haven't escaped his work.  In his short film, "Rehearsing," Daniel starred as a neurotic opera singer trying to make his way. "Rehearsing" was nominated for Best Film and Best Director at the annual Dusty Awards.  Daniel's feature-length documentary, "Voice Teacher," about eccentric voice coach, Donald Neil Roberts z"l, premiered at the Syracuse International Film Festival and has since screened at the Louisville Film Festival and the "World Eye" Jewish Film Festival in Ashkelon, Israel.
Daniel lives in Westchester with his wife, Cantor Amanda Kleinman and their three children.
CONTACT INFORMATION
Email: CantorDanny@NYKolAmi.org
Listen To Cantor Danny
(914) 949-4717 X130