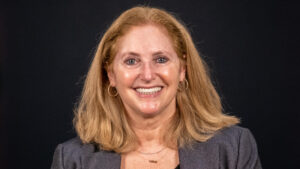 Jess Lorden became the Executive Director of Congregation Kol Ami in January 2016.
Jess graduated Phi Beta Kappa with a B.A. in political science and business management from the State University of New York at Binghamton in 1983, and received her J.D. from Duke University School of Law in 1986.  Upon her graduation, Jess served as a law clerk to Chief Justice James G. Exum, Jr. of the North Carolina Supreme Court.  After completing her clerkship, Jess served as an associate with Brown & Wood in New York City.  In 1989, Jess moved in-house joining IBM Corporation where she proudly served for twenty-five years.  In Jess' last position before retiring, Jess was Vice President, Associate General Counsel for IBM's Sales & Distribution business unit.  Jess' responsibilities included the provision of legal support across IBM's worldwide sales organization for mergers & acquisitions, human resources and employment law and business offering development, as well as support for IBM's State & Local government business in the United States.
Jess has dedicated considerable personal time to her two favorite institutions, Congregation Kol Ami and Binghamton University, and to fundraising for the White Plains Fastpitch Organization.  Jess' civic involvement was recognized with multiple service awards from President Obama.
Jess has been a Kol Ami congregant since 1994 and was an active volunteer for more than ten years before assuming her role as Executive Director.  After serving as a member of the Religious School Committee for several years, in 2004 Jess became a Co-Chair of the Religious School Committee.  In 2006 Jess became a Kol Ami Trustee.  Jess served as the Secretary of the Kol Ami Board for three years before becoming a Vice President in 2012.  In her capacity as Vice President Jess chaired the Financial Commitment Task Force and Co-Chaired the By-laws Task Force.  Immediately prior to becoming Kol Ami's Executive Director, Jess served as overall leader for the initiatives we have undertaken in support of the Coachman Family Center.  After serving as a Kol Ami volunteer for so many years, Jess is thrilled to bring her energy and talents to Kol Ami in a professional capacity.
Jess is a long-term member of Binghamton University Dean's Advocacy Council becoming Vice-Chair in 2012.  Further, in 2009 Jess became an Adjunct Professor teaching a mid-winter pre-law seminar.  In 2013, Jess was elected as a Trustee of the Binghamton University Foundation where she proudly continues to serve.
In her spare time, Jess enjoys spending time with her family, working out, gardening and reading.  Jess continues to try to find the time to pursue her lifelong interests in watercolor painting and pottery.